Christie Should Expand Medicaid
Expansion Would Save State $2.45 Billion
On February 21, 2013, New Jersey Policy Perspective (NJPP) posted an article, "To Put the Interest of New Jersey First, the Governor Needs to Expand Medicaid."
It makes the case for why Governor Christie should include Medicaid expansion in the State's budget and lays out an argument for expanding Medicaid.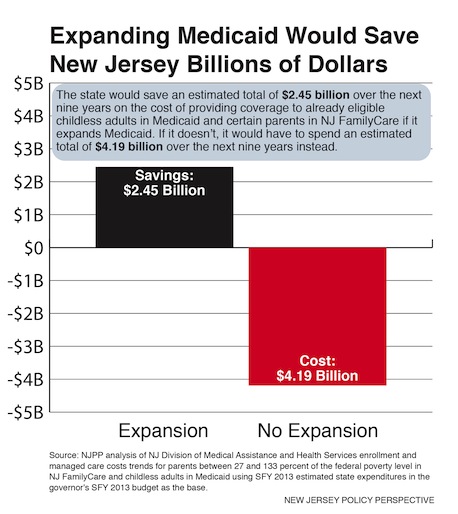 Of particular interest to those who advocate for and work with the homeless, Medicaid Expansion would provide health care coverage for the 307,000 New Jerseyans who are now forced to rely on emergency room visits for even minor ailments.
By expanding Medicaid, the State would save $2.45 billion over the next 9 years as compared to the $4.19 billion it would spend over the next 9 years if Medicaid is not expanded.
The argument for accepting the Medicaid expansion is already one-sided:
It would mean that 307,000 struggling New Jerseyans who must now rely on emergency room visits for any ailment would be covered with quality health care
It would infuse an average of $1.7 billion dollars annually into the state's fragile economy over the next nine years, stimulating economic activity and new jobs
It would expand health care at no cost to the state in 2014, 2015, and 2016, with its share gradually growing to only 10 percent by 2020
NJPP and Monarch Housing urges Governor Christie to follow the lead from his fellow conservative Republican governors, including most recently Florida Governor Rick Scott, who have accepted Medicaid expansion into their states.
Click here to read the full article.