McKinney Funding at Risk of 10% Cut
Call Senators Lautenberg and Menendez Today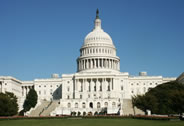 On March 6, 2013, the House passed legislation that would fund the government at largely FY 2012 levels for the remainder of FY 2013 (until September 30).
In FY 2012, HUD's McKinney-Vento Homeless Assistance Grants were funded at $1.905 billion. The actual amount will be $96 million less due to the 5% cut required by the sequester.
Due to the increased renewal burden for FY 2013 and the 5% cuts caused by sequestration, this funding level would result in about 10% cuts to all programs in the next NOFA.
The next step is for the Senate to take up funding legislation for the remainder of FY 2013. We MUST ensure that they provide increased funding for HUD's McKinney programs to ensure that we do not have to make further cuts to the programs that serve our nation's most vulnerable people.
We have heard from many sources on Capitol Hill that the most effective messages are those that come directly from constituents.
Please take a minute TODAY to:
Call Senators Lautenberg and Menendez's offices. Ask to speak to the person who handles housing issues.

Senator Lautenberg – Housing staffer: Michael Derzko – 202-224-3224
Senator Menendez – Housing staffer: Jason Lallis, 202-224-4744

Tell them that a 10% cut would have a very negative impact on New Jersey's homeless assistance programs. Urge them to have their boss support $2.231 billion for HUD's McKinney-Vento Homeless Assistance Grants in the final FY 2013 funding legislation.
Let Kate Kelly know who you called and what their response was.
As Background:
As many of you recall, in the grant applications for McKinney funding that were recently completed, HUD asked CoCs to identify approximately 2.5% of your programs to cut, which resulted in many communities needing to make difficult choices about how their CoC funding is allocated. The House bill, should it become law, would require you to cut an additional 10 percent of your homeless assistance funding. There would be no new funding and these cuts would most certainly coincide with increased need.
Last year, the Administration, House, and Senate all proposed increasing funding for HUD's McKinney programs. Following failed negotiations around sequestration, the House has decided to wrap up FY 2013 funding by making the current stopgap funding measure funding HUD, HHS, and many, many other programs at FY 2012 levels permanent.
Should the Senate adopt this legislation, it would have disastrous consequences for our nation's poorest people. Senate Majority Leader Harry Reid announced this morning that the Senate will be taking up some sort of measure resembling the House's bill this Monday. We need to make sure that the legislation the Senate passes funds HUD programs as robustly as possible.