Congressional District Housing Profiles
NJ 4th Most Expensive for Rentals
Advocacy Updates Available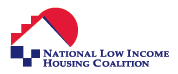 In preparation for its annual Lobby Day in Washington, DC on Wednesday, March 20, 2013, the National Low Income Housing Coalition (NLIHC) updated its Congressional District Housing Profiles as well fact sheets on current legislative issues.
The profiles are based on the Out of Reach 2013 data and provides details on housing affordability for each of NJ's twelve congressional districts. The data documents that NJ is the 4th most expensive place to rent an apartment.
Click here for information on how to use the data.
The fact sheets track legislation related to NLIHC's 2012 policy agenda, including:
The National Housing Trust Fund,
Vouchers,
Budget and appropriations,
Housing plus services, and
Low-income housing tax credits.
Click here for the updated fact sheets.
Click here for NJ's Policy Priorities.