NJ's Affordable Rental Market Tightens
Sandy Places Further Strain on
Low-Income Households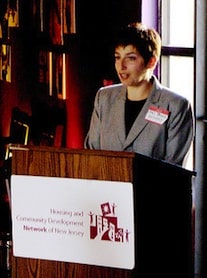 On March 14, 2013, radio station NJ 101.5 broadcast "Sandy Strains Already High Rents in New Jersey."
The news story quoted Staci Berger and highlighted two recent reports: the National Low Income Housing Coalition's (NLIHC) Out of Reach 2013  report and a one from Enterprise Community Partners and used the following statistics to paint the picture of a rental housing market in New Jersey that has been further tightened.
Monarch Housing has reported on these statistics in previous website posts:
A family in New Jersey must earn a housing wage of $24.84 to rent a 2 bedroom apartment;
The Fair Market Rent for a 2 bedroom apartment in New Jersey is $1,292/month;
43% of the households displaced by Hurricane Sandy were renters; and
67% of these households earned less than $30,000.
According to Staci Berger, Director of Policy and Advocacy at the Housing and Community Network of New Jersey, "in reality, what happens is families must either take second jobs, spend more of their income on rent, or cut back on other things."
'We know that's happening down the shore where something like 64 percent of folks were unable to find an affordable rental home in Monmouth County. I think it was even higher in Ocean County.'
The problem is exacerbated by Superstorm Sandy, which damaged many rental properties along the shore, many of which were low-income renters. Berger says now the displaced residents are relocated to the remaining rentals they can afford, which she notes 'isn't very much.'"
But there are solutions including funding construction of new affordable rental housing through the Affordable Housing Trust Fund and replenishment of the Special Needs Housing Trust Fund.
Click here for the full article.