Aging Homeless Population
Growing Healthcare and Housing Needs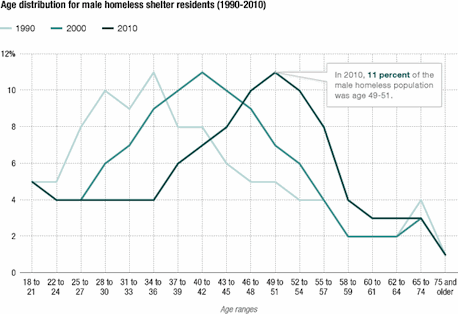 In a March 13 and 14, 2013 news story, National Public Radio (NPR) highlighted the plight of the aging homeless population in two stories. The first was "We Shouldn't Have to Live Like This" and the second was "Health Problems Compound For Aging Homeless."
Both stories interview homeless adults in Baltimore who are reaching "premature old age." The trend is that the homeless living on the streets in their late 40s and 40s are suffering from ailments common for those in their 70s.
The health problems of this population could translate into hundreds of millions of dollars in additional costs especially in health care and more specifically in emergency medical care.
"'If you're on the street, you're about three times more likely to have hypertension, or cardiovascular disease. You're about 50 percent more likely to die from it as well,' Nilesh Kalyanaraman, chief medical officer at Health Care of the Homeless, a clinic in Baltimore says. 'Diabetes is more prevalent if you're homeless. It's harder to control.'"
Two of the premature homeless, Tony Lithgow and Andrea Mayer, have been homeless for a decade. Mr. Lithgow states:
"I got to get her off the street and I can't do it. Nobody's helping us. I'm tired. I'm tired. I'm exhausted," he says as his voice cracks. "This is not a joke anymore. I hurt."
Supportive housing could help end the cycle of homelessness for many of these individuals and help them control their health problems. And some communities are creating supportive housing tailored to the specific needs of the elderly.
Click here to read "We Shouldn't Have to Live Like This."
Click here to read "Health Problems Compound For Aging Homeless."