Mental Health Discussed at Morris Forum
Panel Draws Standing Room Only Crowd in Morris County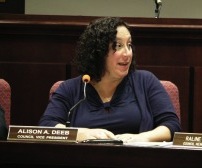 Over one-hundred people attended a panel discussion on February 27, 2013 at the Morris County Library on improving community safety with a focus on mental health, human and social development, second amendment rights and gun violence.
Excerpts related to mental health from the discussion are cited below.
"Most acts of violence are committed by people who are not mentally ill, and people with mental illness are often victims of crime. However, there is certainly a connection between untreated, undertreated or unrecognized mental illness and violence. Violence toward self and violence toward others" says Michelle Borden, a licensed clinical social worker with NewBridge Services, Inc. "Unidentified and untreated mental health disorders cause significant impairment in day to day life activities for the individual and their families. Yet, well conceived and managed programs and treatments can reduce and limit the impact of a mental illness improving functioning and overall quality of life."
Lou Schwarcz, President & CEO of the Morris County Mental Health Association spoke passionately about how adequately funding the public mental health system, with selected programmatic reforms, can have an impact on reducing the small incidence of violence related to untreated mental illness. He noted that governors in New Jersey over many years have supported mental health services, but in the current fiscal climate it is important for this funding to continue and for citizens to support this funding.
Morristown Councilwoman Alison Deeb organized the event because she felt the response has been on more gun control legislation as the "panacea" instead of "constructive and comprehensive public policies and solutions."
The response to the recent tragedy in Newtown has focused entirely on gun control. Why weren't 23 mental health bills rushed through the assembly? It seems like law abiding citizens are the focus instead of the criminals. "We are going after the wrong target," she says.
Click here for an article on the Morristown Green website.