Post-Sandy A Home for All New Jerseyans
Comments on Sandy CDBG-DR Action Plan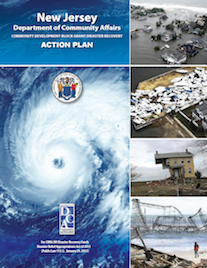 On March 19, 2013, the Supportive Housing Association (SHA), the Housing and Community Development Network (HCDNNJ), CSH and Monarch Housing Associates, on behalf of forty-four (44) other organizations submitted comments on the Department of Community Affairs Action Plan – Taking Action To Distribute The Necessary Resources For The Rebuilding Process – for the CDBG-DR funds.
Monarch Housing and its partners are pleased that the Plan includes resources for those with special needs and the homeless.
As the Action Plan states:
"Households with special needs are often times more vulnerable to natural disasters due to damaged or displaced support networks, accessibility issues or increased costs of living,"
"Damage caused by Superstorm Sandy drastically limited housing options available for New Jersey's homeless population."
The inclusion of specific funding to provide supportive housing and the necessary supportive services along with the rental housing focus is a significant and positive step.
However, it is only a first step and more needs to be done to ensure that those with special needs and the homeless can have a place to call home. The Home for all New Jerseyans: A Plan to Create Housing for Residents with Special Needs and to End Homelessness remains the blueprint for both the short-term and long-term solution.
Click here for a link to the comments.

Click here Fair Share Housing Center's comments.

Click here for the Network's supplemental comments.

Click here for a Home for All New Jerseyans.
Below is a summary of the Action Plan comments:
Implement the Sandy Special Needs Housing Fund (SSNHF) using the guidelines for the Special Needs Housing Trust Fund (SNHTF);
Use not only the first round of funding but both of the next two phases to build an effective pipeline of projects;
Commit to identifying a permanent funding source to fully replenish the SNHTF;
Provide 20% of the returned vouchers to housing developers to be used to make units affordable in existing or new developments;
Provide funding for a special allocation of State Rental Assistance Program (SRAP) vouchers for the supportive housing units;
Provide services for the supportive housing units that will be developed by the SSNHF; and
Commit to provide long-term funding for supportive services.
The Continuums of Care (CoC) who signed on to the comments added the additional comment: Any state level application process for the distribution of SSNHF funds should include the approval/notification of the local CoC.
Monarch Housing also signed on to separate comments submitted by The Fair Share Housing Center and the HCDNNJ.