Will Tax Reform End the LIHTC?
LIHTC At Risk
If We Do Not Act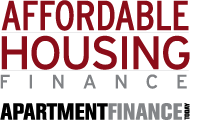 In a March 12, 2013, article, "What Will Tax Reform Mean for the LIHTC," Affordable Housing Finance featured expert opinions on what the legislation might mean and how to protect the Low Income Housing Tax Credit (LIHTC) program.
According to Deborah VanAmerongen, strategic policy adviser, Nixon Peabody, there are two threats to the LIHTC:
Across the board reduction or elimination of all tax expenditures; and
Changes in the tax code that would greatly diminish the credit's value.
VanAmerongen writes,
"There is no substitute for the LIHTC program, and no one believes that an appropriated housing program would be created to replace it, so if there is to be a future for affordable housing, we have to engage in this discussion."
Other experts differ in their opinions of the level of threat to the LIHTC from tax reform and the fiscal cliff.
But their messages around the critical importance of advocacy around this program are clear:
The LIHTC is a successful program that historically had bi-partisan support;
The tax credit industry must work to advocate for the program; and
It is critical that Congress, including new members, understand the program's benefits.
Click here to read the full article.