Ask Congress to Fund Second Chance Act
Help Former Prisoners Returning to
Communities Make Better Transitions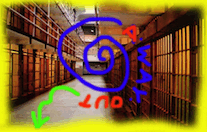 Recently, the House began work on their FY14 justice appropriations bill that includes funding for the Second Chance Act. Congressman Danny Davis (D-IL) is circulating a "Dear Colleague" letter in the House in support of Second Chance Act funding.
It is critical that as many Members of Congress sign onto this letter as possible. The deadline to sign on is Friday, April 5, 2013.
Please contact your Member of Congress today and ask him to sign onto the letter. Congressman Andrews, Holt and Pascrell have all supported the Second Chance Act in the past.
As background, in April 2008, the Second Chance Act passed with overwhelming bipartisan support and was signed into law. It is a common-sense, evidence-based approach to improving outcomes for people returning to communities from prisons and jails.
This first-of-its-kind legislation authorizes federal grants to government agencies and nonprofit organizations to provide employment assistance, substance abuse treatment, housing, family programming, mentoring, victim support, and other services that can help reduce recidivism.
If you have any questions, please contact Jeff Burdette at the Council of States Government Justice Center.
Click here to use the Council of States Government's website to email your member of Congress.
Click here for Congressman Davis' "Dear Colleague" letter.