Congress Passes FY13 Spending Measure
Includes Almost $2 Billion for McKinney-Vento
Sequestration Cuts Funding by 5%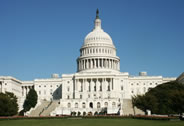 On March 21, 2013, Congress passed the final fiscal year (FY) 2013 funding legislation for all federal agencies. The bill, H.R. 933, funds most of the federal government at FY 2012 levels through September 30, 2013, but includes anomalies, or spending exceptions, for certain key programs.
The final bill includes funding for numerous federal programs impacting homeless and at-risk people, including:
$1.929 billion for the Department of Housing and Urban Development's (HUD) McKinney-Vento Homeless Assistance Grants program;
$109.135 million for Runaway and Homeless Youth Act (RHYA) programs within the Department of Health and Human Services (HHS);
$4.045 billion for HUD's Public Housing Operating Fund;
$71.175 million for Substance Abuse and Mental Health Services Administration (SAMHSA) homeless services programs within HHS:
$61.685 million for the Projects for Assistance in Transition from Homelessness (PATH) program within HHS;
$123.37 million for Health Care for the Homeless Centers within HHS;
$61.685 million for the Education for Homeless Children and Youth (EHCY) program within the Department of Education; and
$36.062 million for the Homeless Veterans Reintegration Program (HVRP) within the Department of Labor.
Please note that the above numbers represent funding for these programs after sequestration, the automatic across the board cuts of approximately 5% to the final FY 2013 funding level of most security and non-security discretionary programs.
All programs within the Department of Veterans Affairs, including the following homeless assistance programs, are exempt from sequestration:
$300 million for the Supportive Services for Veteran Families (SSVF) program;
$235 million for the Grant and Per Diem transitional housing program; and
$75 million for joint Department of Housing and Urban Development – Veterans Affairs Supportive Housing (HUD-VASH) vouchers.
$245 million for the case management portion of the HUD-VASH vouchers.