Sequestration Eliminates 140,000 Rental Vouchers
With Rising Need for Housing Assistance
Shelters May See Increased Demand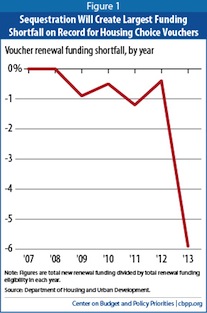 The budget cuts known as "sequestration," initiated on March 1, 2013, will likely force state and local housing agencies to cut the number of low-income families using Housing Choice Vouchers to afford housing by roughly 140,000 by early 2014.
This represents a sharp break from Congress' bipartisan commitment — which it has met for most of the voucher program's nearly 40-year history — to renew assistance for at least the same number of families from year to year. Thousands of other low-income families using vouchers could face sharp rent increases because of sequestration.
These cuts, which housing agencies have already begun to implement (primarily by failing to reissue vouchers to families on waiting lists when other families leave the program), will fall heavily on vulnerable people. Half of the households in the voucher program include seniors or people with disabilities, while most of the rest are families with children.
These households typically have incomes well below the poverty line and cannot afford housing without assistance. Some who will go without assistance face extreme hardship, such as living in homeless shelters.
In addition, housing vouchers are an essential tool for preventing homelessness and helping families in emergency shelters and other types of temporary housing to move into stable, permanent housing. Indeed, many communities prioritize homeless individuals and families for receipt of vouchers.
As agencies shelve vouchers in response to sequestration cuts, the number of vouchers available to families that are homeless or at imminent risk of homelessness will shrink dramatically, lengthening the amount of time that families remain homeless and causing other homeless families to be turned away from emergency shelters because they are full.
The cuts come at a time when the number of low-income families in need of housing assistance has been rising substantially, there are long waiting lists for vouchers in almost every community, and homelessness remains a persistent problem.
Click here to read the full analysis from the Center for Budget and Policy Priorities (CBPP.)