2012 Regional Data Reports Released
Key Findings Provide Local Communities
With Tool for Data Driven Planning
Using data from New Jersey's Homeless Management Information System (HMIS) and dividing the state into three regions, Monarch Housing Associates has created three Regional – Northern, Central, and Southern – Homeless Assessment Reports.
Key findings include the following homeless household population totals:
When comparing these numbers to the found in the 2011 Regional Reports, there is a 53% increase in the number of households reported on. This increase involves a 33% increase in households served in both emergency shelter and transitional housing programs as well as the inclusion of permanent housing programs in the 2012 report.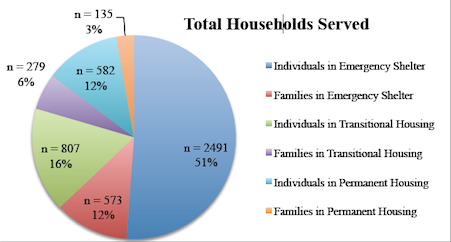 The reports also have a subsection of results based on youth households in each region. The following are youth household population totals:
1,819 in the Northern Region;
706 in the Central Region; and
1,099 in the Southern Region.
Other findings include data about cause of homeless, program discharges, and additional demographic information that paint the picture of the homeless population.
The use of local data on the homeless population and the programs within a community will play a critical role in planning and program development in order to end homelessness and will be essential for basic compliance with HEARTH Act regulations. These reports provide a snapshot of the characteristics of homeless households in the three regions.
To view the reports use these links:
If you need more information about the reports, click here to send us an email.
Click here to review last year's reports.