Homeless Assistance Funding in the President's Budget
NAEH Video Advocacy Webinar
on the federal budget process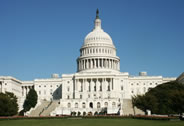 On Wednesday, April 10, the Administration released its complete fiscal year (FY) 2014 Budget Proposal, continuing the federal budget process for FY 2014.
The Budget Proposal is typically released in early February; however, this year, due to complex issues such as the so-called fiscal cliff, sequestration, and a delay in finalizing the FY 2013 appropriations, the Administration released their proposed budget two months late.
The FY 2014 Budget Proposal suggests funding levels for various key programs targeted at low-income people or people experiencing homelessness that include:
$2.381 billion for Department of Housing and Urban Development (HUD) McKinney-Vento Homeless Assistance Grants program, a 23 percent increase over the FY 2013 level;
$1.4 billion for targeted homeless veteran programs within the Department of Veterans Affairs (VA), a 4 percent increase over the FY 2013 level;
$115 million for Runaway and Homeless Youth Act programs, a 5 percent increase over the FY 2013 level;
$20 billion for Tenant-Based Rental Assistance, a 13 percent increase over the FY 2013 level. This includes $75 million for about 10,000 new HUD-Veterans Affairs Supportive Housing (HUD-VASH) vouchers;
$10.28 billion for Project-Based Rental Assistance, a 16 percent increase over the FY 2013 level; and
$74 million for homeless programs within the Substance Abuse and Mental Health Services Administration, a 12 percent increase over the FY 2013 level.
Please note that the above FY 2013 comparison figures represent the final funding levels after sequestration and additional 0.2 percent across-the-board cuts. In the coming days, congressional committees will hold hearings on the Budget Proposal and begin drafting appropriations bills.
NJ now has five members who have signed the McKinney letter – Congressmen Rob Andrews, Rush Holt, Frank Pallone, Bill Pascrell, and Albio Sires.
This is the recording of the Alliance's advocacy webinar on the federal budget process that originally streamed Thursday, April 11th.