Local Trust Funds Again at Risk
Come & Be Heard at Wed. COAH Hearing
COAH to Raid Municipal Housing Trust Funds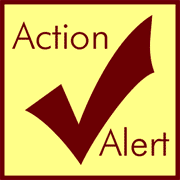 Governor Christie's Administration has called a meeting of the Council on Affordable Housing (COAH) for this Wednesday, May 1 at 9:30am at HMFA.
The agenda for Wednesday's meeting includes authorizing the State to begin taking $140 million in municipal affordable housing trust funds.
The Housing and Community Development Network and Monarch Housing Associates urges members, friends, and allies to attend Wednesday's meeting and come prepared to speak during the public comment portion of the meeting. Your presence sends a powerful message that the COAH members should hear loud and clear: LOCAL FUNDS MUST BE SPENT LOCALLY!
Again, the meeting will take place on Wednesday, May 1 at 9:30 a.m. at the NJ Housing & Mortgage Finance Agency located at 637 S. Clinton Avenue in Trenton. If you plan on attending and/or if you wish to speak, please RSVP by email Arnold Cohen or at 609-393-3752 ext16.
If you cannot attend Wednesday's meeting you can still make an impact.
Please contact the following COAH public members and ask them to vote against taking these municipal housing trust funds: