Less Funding Expected in 2013 NOFA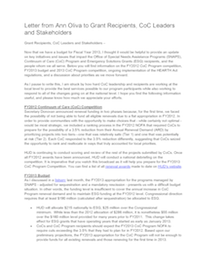 On May 6, 2013, Ann Oliva, Director, Office of Special Needs Assistance Programs sent an email update to Grant Recipients, CoC Leaders and Stakeholders.
She opened her email by stating:
As I pause to write this, I am struck by how hard CoC leadership and recipients are working at the local level to provide the best services possible to our program participants while also working to respond to all of the changes going on at the national level.
Among her key points were:
HUD is continuing to conduct scoring and review of the rest of the projects submitted by CoCs. Once all FY2012 awards have been announced, HUD will conduct a national debriefing on the competition. It is imperative that you watch this broadcast as it will help you prepare for the FY2013 CoC Program Competition.
Congressional direction requires that at least $190 million (calculated after sequestration) be allocated to ESG.

HUD will allocate $215 nationally to ESG, $25 million over the Congressional minimum. While less than the 2012 allocation of $286 million, it is nonetheless $55 million over the $160 million level provided for many years prior to FY2011. This change takes effect for ESG grants that have operating years that started as early as January 2013.
CoCs and CoC Program recipients should expect the FY2013 CoC Program NOFA to require cuts exceeding the 3.5% that they had to plan for in FY2012. Based upon our preliminary projections, the FY2013 appropriation for the CoC Program will not be enough to provide funds for all existing renewals and those renewing for the first time in 2013. Regrettably, we must suggest that CoCs begin planning now about how they could best implement these cuts by making strategic local decisions. More information will be provided in the FY2013 CoC Program NOFA.

In order to get back onto a more normal and timely CoC Program award schedule, it is likely that there will be a relatively short time between final announcements for FY2012 and the opening of the CoC Registration for FY2013.
The new ESG and CoC Program interim rules are currently in effect and will govern our programs until final regulations are issued by the Department. We know, based on comments and feedback already received, that there are some key adjustments that we need to make. However, some changes cannot be made without a change to the law – including our ability to allow non-profits to administer rental assistance for permanent housing.
In order to ensure that we have meaningful comments that reflect recipients' experience, the Department intends to re-open the public comment period for both the ESG and CoC Program interim rules so recipients, CoCs, and other stakeholders can provide additional comments after having the opportunity to administer grants under the interim rules.
Click here to read her full letter.