Renter's Tax Credit Update
Tax Credit for Renters is Needed Now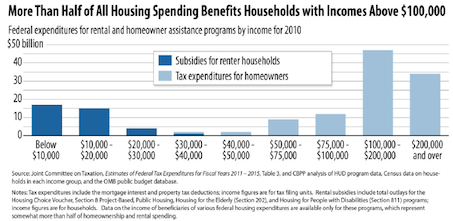 The Center for Budget and Policy Priorities has submitted to the House Committee on Ways and Means Tax Reform Working Groups on Real Estate and Income and Tax Distribution a report on the benefit of the proposed Renter's tax credit.
The majority of federal housing expenditures — counting both tax subsidies and direct appropriations — subsidize home ownership, with the bulk of the benefits going to higher-income households.
Low-income renters, however, are far more likely to pay a very high share of their income for housing and face other serious housing-related problems. Rigorous research has shown that rental assistance sharply reduces homelessness and housing instability — conditions that have a major long-term impact on children's health and development. Yet only about one in four eligible low-income renters receives any federal housing assistance, due to funding limitations.
The proposed credit is described in detail here and would have these key features:
Credit caps: The proposal would authorize states to allocate a capped amount of credits, subject to federal income eligibility rules and state policy preferences. This would allow the credit to be delivered at a relatively modest budgetary cost, but still provide subsidies large enough to help even the poorest families afford housing. We estimate that with a national cap of $5 billion states could use the renters' credit to assist about 1.2 million families.
Income eligibility: Initial eligibility would be limited to families with income at or below the higher of 60 percent of the local median income or 150 percent of the poverty line, with 75 percent of the credits targeted on "extremely low-income" renters with income below 30 percent of the local median or the poverty line.
Claiming the credit: An owner that rents to an eligible family at a reduced rent could claim the credit on its taxes. The owner could benefit from the credit promptly by reducing quarterly estimated taxes or withholding. Alternatively, a bank or other entity holding the mortgage on the property could claim the credit, in exchange for a reduction in the owner's mortgage payments. This would allow the credit to be used in properties owned by non-profits or other owners that do not owe taxes themselves, and by small property owners who are reluctant to be responsible for claiming the tax credit directly.
Click here to read more about the Renter's Tax Credit.