Court Blocks Raid of Housing Trust Funds
Appeal Scheduled for June 5th at 2 PM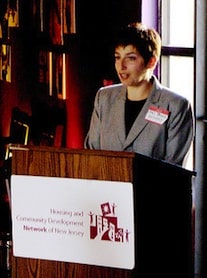 The Appellate Division of the New Jersey Superior Court issued an injunction blocking the Christie Administration's raid on up to $164 million in municipal housing trust funds.
The order was issued by three judges in response to an emergent application filed by Fair Share Housing Center (FSHC).
Oral argument in the appeal on the issue of whether the court's injunction should be made permanent, is scheduled for June 5, 2013 at 2 p.m. at Veteran's Courthouse located at 50 W. Market Street, Room 1114 in Newark.
The court's decision blocks a May 1, 2013 resolution adopted by the Council on Affordable Housing (COAH) at the request of the Christie Administration. The resolution required municipalities to turn over funds that were not "committed for expenditure," but the Administration has refused to advise municipalities or the public at large what it must do to protect the funds from seizure.
At that meeting, over fifty people showed up from people with special needs to the League of Municipalities to civil rights, environmental, and housing groups to oppose the raid on the trust funds, with not a single speaker in support. Despite that unanimous opposition from strange allies, after a closed-door session COAH approved the raid going forward.
"The Court correctly halted this process given the Administration's refusal to follow the laws on the books," said Kevin D. Walsh, Associate Director of FSHC. "This money is needed to recover from Hurricane Sandy. More than half of the money is from the nine counties hit hardest by the storm. The Administration is blocking homes from being built or fixed up at the worst possible time, when rents are increasing and homes are scarce."
Housing and Community Development Network of New Jersey (the Network) Executive Director Staci Berger said:
"This injunction is an opportunity that allows towns more time to create the homes that our state needs. Over half of the funds at stake are based in the nine Sandy devastated counties, it's crucial that these funds are spent as intended, in the communities they were intended for. In Middle Township for example, in hard hit Cape May County, $1.3 million is in jeopardy of being taken by the state despite having a plan to create 400 affordable homes. Another example is Morris County where Morris Habitat for Humanity has been contracted to develop 62 affordable homes throughout twelve municipalities using over $2.6 million dollars."