Lautenberg: Senator for the Homeless
Senator Received A Rating
In Congressional Report Card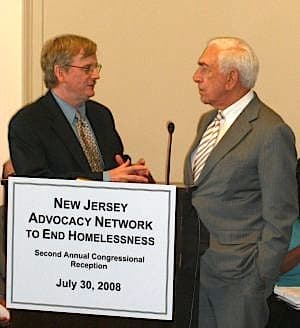 Senator Lautenberg was always an advocate and supporter of NJ's efforts to prevent and end homelessness. When the NJ Advocacy Network to End Homlessness released its Congressional Report Card on October 6, 2008, he was one of only 5 who received an 'A" rating.
His death this week will leave a leadership vacuum on issues that truly matter to those who are homeless or at risk of becoming homeless.
Last year in announcing funding for homeless veterans, Senator Lautenberg said:
"We must do everything we can to provide our veterans who have bravely served our nation with adequate housing and support services. It is unacceptable that so many of our veterans remain homeless, and this funding will help struggling veterans in Camden receive the help they need."
In March of this year he said the following in announcing Continuum of Care awards:
"This federal funding will help homeless men and women across New Jersey find safe, reliable housing and access services to improve their lives. Investing in these programs during difficult economic times makes an important commitment to those who are most at-need in our communities. With this funding, we can help create new opportunities for some of the state's most hard-pressed families and put more New Jerseyans in decent homes."
Senator Lautenberg will long be remembered for his commitment to end homelessness.
Monarch Housing Associates is reaching out to our partners across NJ to find a way to honor Senator Lautenberg for his leadership, commitment and passion on this issue.
Click here if you would like to join us in honoring him.