22% in NJ Pay Half of Income on Housing
Millions of Americans Under
Severe Housing Cost Burden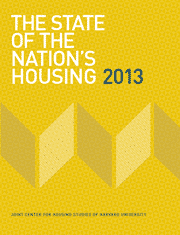 The Harvard Research Center released The State of The Nation's Housing 2013, which finds that rising home prices and growing demand are driving the housing recovery, but that long-term vacancies, delinquent mortgages, and home ownership rates show that not everyone is benefiting from the recovery.
In California, New York, and New Jersey, more than 22 percent of households pay more than 50 percent of pre-tax income for housing, as median home values and rents in these states are among the highest in the country.
Other key findings are:
No Recovery In Housing Cost Burdens
In 2011 42.3 million households, or 37 percent, faced housing cost burdens, paying more than 30 percent of pre-tax income on housing costs, including 20.6 million households (17.9 percent) with severe cost burdens, paying more than 50 percent of pre-tax income for housing.
Between 2001 and 2011, the number of severely burdened households increased by 6.7 million, or 49 percent. Since the beginning of the recession in 2007, the increase has been 2.6 million.
Between 2007 and 2011, the number of severely burdened renters soared by 2.5 million and now account for 27.6 percent of the total number of cost-burdened households.
Nearly seven out of ten households with annual incomes of less than $15,000 (roughly equivalent to year-round employment at the minimum wage) pay more than half of their income for housing costs.
Severely cost burdened low-income families spend about two-thirds as much on food, half as much on clothing, one-fifth as much on health care, and half as much on pensions and retirement as similar families living in housing they can afford.
Affordable Housing Gap Grows
As Rising Demand Overwhelms Supply
In 2011, there were 12.1 million extremely low-income renters, an increase of 2.5 million since 2007. Meanwhile, as of 2011 there were 6.8 million housing units affordable to extremely low-income renters in 2011, 135,000 units fewer than in 2007.
Between 2001 and 2011 650,000 housing units renting for $400 per month –affordable to households earning a fulltime minimum wage – were permanently removed from the housing stock, a loss of 12.8 percent of the 2001 low-cost inventory.
Chick here to read the full report.