SSVF 2013 Grants Announced
$11.67M Awarded to NJ
2,664 Vets to be Helped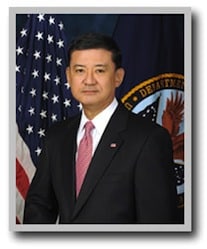 Secretary of Veterans Affairs Eric K. Shinseki announced on July 13, 2013, the award of nearly $300 million in grants that will help approximately 120,000 homeless and at-risk Veterans and their families.
The grants are going to 151 community agencies in all 50 states, the District of Columbia, Puerto Rico, and the Virgin Islands.
Seven projects, three renewals and four new projects, received a total of $11,678,705. The seven projects will provide assistance to 2,664 to prevent or end homelessness for veterans.
"With these grants, we are strengthening our partnership with community non-profits across the country to provide Veterans and their families with hope, a home, and a future," said Shinseki. "The work of Supportive Services for Veteran Families program grantees has already helped us prevent and end homelessness among tens of thousands of homeless Veterans and their families, but as long as a single Veteran lives on our streets, we have work to do."
Click here to read the VA press release.

Click here for a list of award recipients.

Click here for more details about the SSVF program.
Under the Supportive Services for Veteran Families program, VA is awarding grants to private non-profit organizations and consumer cooperatives that provide services to very low-income Veteran families living in — or transitioning to — permanent housing. Those community organizations provide a range of services that promote housing stability among eligible very low-income Veteran families.
Four new programs were funded in New Jersey.
Catholic Charities Dioceses of Camden, Community Hope, and Soldier On programs from last year were refunded.
Catholic Charities was approved for $1,261,748 to serve 265 participant households in the six southernmost counties.
Community Hope for $2,000,000 to serve 310 participant households in the Counties of Middlesex, Morris, Passaic, Somerset, Sussex, Union, Warren, Bergen, Hudson and Hunterdon counties and
Solider On for $2,000,000 to serve 500 participant households in the Central New Jersey counties of Burlington, Monmouth, Middlesex and Ocean counties.