HUD Funding Bill to Go to Senate Floor!
Vote Could Occur Next Week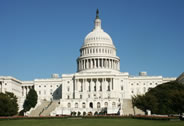 At this stage in the FY 2014 funding process, the full House and Senate Appropriations Committees have both released and voted on their FY 2014 funding legislation for HUD programs.
While the House has no plans as of yet to move the HUD funding bill to the floor, the Senate is taking a big step in advancing the legislation – it will be the first FY 2014 funding bill to go to the Senate floor.
Bipartisan passage of this legislation would put the Senate in a strong negotiating position when Appropriators in the House and Senate compromise on final legislation. We need to tell our Senators to support this legislation!
Here's What You Can Do:
Call your Senators' offices THIS WEEK. Click here for housing staffers for NJ's Senators.
Tell them to have their boss support the HUD funding bill on the Senate Floor!

Urge them to make a statement during debate on the Senate floor in support of the need to provide sufficient funding for HUD's low-income housing and homelessness programs.
Your Senator can use these talking points (help provide local information) to help make his/her case!
HUD and staff on the Appropriations Committee have told us how critical it will be to get strong support for this legislation to ensure its passage. Please take a moment this week to reach out to your senators' offices and let them know how crucial sufficient funding is for HUD programs.
Sen. Mikulski, Chairwoman of the Senate Appropriations Committee, has announced that she would like to use the T-HUD (Departments of Transportation and Housing and Urban Development) funding bill as a "leadoff batter" in the coming floor debates and votes on FY 2014 funding bills. Bipartisan passage of the HUD legislation will ensure that the bill has a stronger position in compromise discussions with the House.
The Senate bill includes significantly more funding for McKinney-Vento Homeless Assistance Grants, CDBG, Section 8, and other key low-income housing programs.
The Senate is likely to bring the legislation to the floor for debate as soon as next week. The more senators that stand in support of the legislation, the more likely it is to pass!