Full House for Capitol Hill Day
Meetings Set With
All NJ Members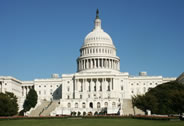 This year Monarch Housing Associates and CSH are the NJ state co-captains for Capitol Hill Day 2013, which will be held on Wednesday July 24th at the end of NAEH's National Conference on Ending Homelessness.
This year meetings will be held with senior staff from each office. In addition, three members of Congress – Rob Andrews, Leonard Lance and Donald Payne, Jr. will attend the meetings.
The meeting goals are to:
Establish/build relationships with your congressional offices;
Educate your senators and representatives on your success and progress at home; and
Encourage them to work in support of policy initiatives to end homelessness.
To prepare participants, the Alliance hosted a Federal Policy Update webinar on Tuesday, July 16 that provided updates on the Hill Day policy priorities driving the Capitol Hill Day agenda.
The webinar offers a great opportunity for anyone interested in these issues to learn more about proposed funding levels and the impact they would have on preventing and ending homelessness.
Staff reviewed these policy priorities and provided the latest legislative and political updates to ensure that Capitol Hill Day participants and other interested advocates have the most recent information prior to their Hill visits.