"The Invisible War" Screened by NAEH
Space is limited
Register Today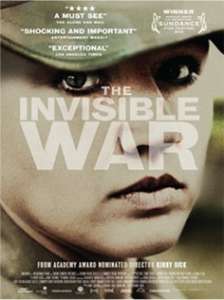 NAEH at their 2013 National Conference on Ending Homelessness will be screening "The Invisible War," a documentary film about sexual trauma in the military from Oscar and Emmy-nominated filmmakers Kirby Dick and Amy Ziering.
Space for the screening is limited and pre-registration is strongly advised. For information about registering, please email NAEH.
If you are unable to attend the screening we encourage you to watch this trailer as well as visit the Invisible War website and join the movement.
Following the screening, which is scheduled for the second day of the conference, Tuesday, July 23, at the Renaissance Hotel Washington DC, Rear Admiral Susan Blumenthal, former assistant surgeon general, will join Maria Cuomo Cole, chairman of HELP USA and an executive producer of the film, for a panel discussion.
"The Invisible War" is an investigative documentary about the systemic cover-up of sexual assault within the U.S. military. It follows the stories of several young servicewomen who were assaulted and then betrayed by their own officers when they came forward to report the attacks.
Invisible No More is a non-partisan coalition working to end sexual assault within the U.S. military and to help survivors of Military Sexual Assault heal.
Today, a woman serving in Iraq or Afghanistan is more likely to be raped by a fellow service member than to be killed in the line of fire.
The Invisible No More coalition seeks to ensure that the theatrical release of the film The Invisible War serves as a catalyst in creating a movement to cause lasting change in how the military handles sexual assault. We engage with advocacy organizations, key policymakers, military leaders, and other stakeholders to raise public awareness, coordinate policy, and energize the grassroots to change military policy and behavior.
Click here to read more about the movie and join the movement.