Homelessness Rises as Economy Improves
Hudson County Homeless
Population Increases 8.9%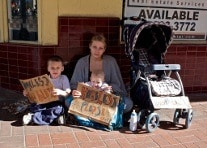 On Friday July 25, 2013, the Jersey Journal reported that the Homeless population experiencing an increase in Hudson County. There was a reported 8.9% increase over the Point-in-Time Count from 2012.
After the recession and Sandy such increases according to the National Alliance to End Homelessness are indicative of how:
"Homelessness is a lagging indicator, and the effects of the poor economy on the problem are escalating and are expected to continue to do so over the next few years. The resources provided by HPRP have run out in many communities and the program will sunset entirely in the fall of 2012; despite the need and proven effectiveness these resources have not been replaced. Debt and deficit reduction at the federal level have begun to shrink assistance available to the most vulnerable."
The article highlights this situation in Union City:
Divorced and living on social security disability payments, Damara, 54, until six weeks ago had her own apartment.

But then the government started deducting roughly $100 a month from her checks to pay for Medicare, The amount for Damara meant the difference between living in her own apartment and being homeless.

The Union City native now bunks at the Palisades Emergency Residence Corporation, a homeless shelter and food kitchen on 36th Street.

"In this economy, it can happen to anybody; it's not a choice," said Damara, who declined to give her last name. "And getting out is just not that easy …It's an extremely humbling experience."

Damara is hardly alone in her predicament.

The 2013 Hudson County Point-in-Time homeless count, which was carried out in January by volunteers, located 942 people living in shelters and on the streets of Hudson County.

There are also 1,122 people receiving Temporary Rental Assistance from the Hudson County Division of Welfare, financial help without which these people, many of whom are minors, would be homeless.
The increase highlights the economic factors impacting homelessness.
"The agencies and shelters are reporting more calls," said Randi Moore, program director of housing assistance¨ for the Hudson County Housing & Community Development. "We're trying to do more and more with less."

Shelter and soup kitchen workers say the uptick in homeless is largely due to working families not having enough money to pay rent.

"I've never seen anything like this," said Emory Edwards, executive director of the Palisades Emergency Residence Corporation (PERC), referring to the increase he's seeing in homelessness.
Click here to read the full article.