House Voting on HUD Funding This Week
Senate Voting on HUD
Funding Bill As Early As Today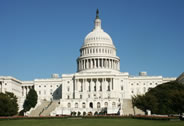 In addition to the Senate activity, the full House is also voting on FY 2014 funding legislation for HUD.
The legislation includes $2.088 billion for HUD's McKinney-Vento Homeless Assistance Grants – significantly less than the amount requested by the President and less than the level proposed in the Senate's legislation.
It is important the House legislation has as much of an increase for the Homeless Assistance Grants as possible. This will ensure that the program is in a strong place when the two versions of the legislation go to conference (the process whereby key members of the House and Senate work out the differences in the two versions and create a final compromise).
The senate vote could occur today and it is imperative that 1754 be defeated, it is just as important that the Senate's HUD funding bill pass! The Senate's version of FY 2014 funding for HUD has significantly more funding for programs like McKinney-Vento Homeless Assistance Grants, Section 8, and many others. Encourage your Senators to pass the funding legislation without 1754! Click here for more information.
Our Representatives need to hear from us THIS WEEK about the importance of low-income housing and homeless assistance programs in HUD. We must make sure that the House legislation, which as it stands would be a disaster for HUD programs, has as much money for HUD as possible!
Here's What You Can Do:
Call your Representative(s) THIS WEEK. Ask to speak to the person who handles housing issues for the Member. Click here for contact information.
Explain to them you want their boss to support higher funding levels in the FY 2014 HUD funding legislation! You can use these talking points to help you make your case!
Let us know who you contacted and what response you get! Email Monarch Housing as well as Kate Seif or Julie Klein!
Following the votes in the House and Senate this week, both Chambers will go on recess until early September, making these next few days one of our last opportunities to make a significant impact in the funding legislation before "crunch time" prior to the end of the fiscal year (September 30). Please make your calls TODAY!