Considering the Needs of Families and Youth
SNAPS Weekly Focus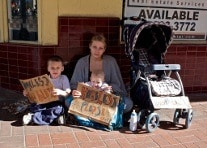 Ann Oliva in her most recent Snaps Weekly Focus stressed that "we have not forgotten about the Opening Doors goal of ending homelessness for families, children, and youth by 2020."
She said:
Families: Despite the worst recession in decades, the number of families living on the street or in homeless programs at a point in time has remained steady—a remarkable feat given how much worse it could have been. According to the 2012 Annual Homelessness Assessment Report (AHAR), there were 77,157 family households that were homeless on a single night in January 2012.The data shows that while some families experience long-term homelessness or multiple homeless episodes, most only experience homelessness for a brief period of time and leave the homeless services system without returning.

The research is clear that the majority of families experiencing homelessness are not that different in characteristics or service needs from other low-income families. Most families experiencing homelessness simply need short- or long-term rental assistance or affordable housing and connection to benefits and community-based supports. For most families experiencing homelessness, permanent supportive housing is not the right intervention.

Ending family homelessness will require us to use resources strategically. I would encourage all CoCs to assess whether the current portfolio of housing and service resources are being deployed in the most strategic way. That may mean using a greater share of your local resources for rapid re-housing over other more expensive interventions. CoCs should also ensure that shelters for homeless families are safe and provide stabilization services to address immediate crisis needs.

Youth: Ending homelessness among youth is also a priority for HUD. The number of homeless youth is still not well known, in large part because of how challenging it is to count youth experiencing homelessness. Unlike single adult individuals, youth tend to avoid traditional homeless services, choosing instead to stay with friends or remain hidden out of fear of being returned to abusive situations. Many fled their homes and families because of abuse, in many cases in response to their sexual orientation. Although only five percent of the general youth population identifies as lesbian, gay, bisexual and transgender (LGBT), the information we have indicates that forty percent of homeless youth identify as LGBT. Too often, they flee one abusive situation only to land in another.

To end youth homelessness, CoCs should partner with schools, the child welfare system, and Runaway and Homeless Youth providers to implement a youth-informed system of care that includes developmentally appropriate services and housing programs for youth. Many youth experiencing homelessness need transitional housing to achieve stability, connect to a support system, and gain the education and employment skills needed to achieve longer term housing stability and well-being. Youth with the highest needs and who have frequent contacts with crisis systems like juvenile justice and behavioral health may need permanent supportive housing.
Click here to view resources for families and youth.