Improving Your Impact and Ending
Homelessness in a Time of Limited Resources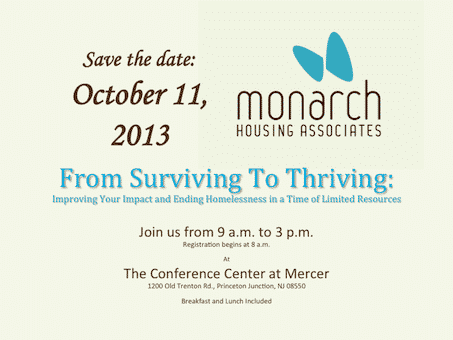 Please Save the Date to join Monarch Housing Associates (Monarch) on Friday, October 11, 2013 for a one-day conference, "From Surviving to Thriving: Improving Your Impact and Ending Homelessness in a Time of Limited Resources."
The conference will take place at The Conference Center at Mercer, 1200 Old Trenton Road, Princeton Junction, NJ. The day will include registration and continental breakfast from 8 AM to 9 AM and lunch and workshops with expert panels throughout the day. The conference will end by 3 PM.
Speakers Monarch Housing and other NJ counties, along with other experts, will participate in the workshops and share lessons learned and best practices.
There will also be time for conversations around exploring the possibilities of partnerships in local counties across the state and the next steps for Improving Your Impact and Ending Homelessness in a Time of Limited Resources.
Space is limited to 100 attendees and workshop content will be targeted to Continuum of Care leaders.
Click here for the Save the Date flyer.
A more detailed invitation will follow.
For more information, please click here to email Taiisa Kelly at Monarch Housing Associates.