Attends HNPC Meeting
Agrees to Sponsor HR 2790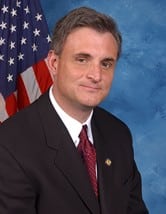 On August 22, 2013, Congressman Rob Andrews attended a special meeting of the Homeless Network Planning Committee (HNPC). The meeting was held at the offices of the Community Planning and Advocacy Council (CPAC) in Pennsauken.
During the one hour meeting, Congressman Andrews spoke eloquently and with passion about ending homelessness and the budget sequester.
"Homelessness is unacceptable. It is a symptom of a larger crisis that we must address."
The Congressman said now is the time to end the budget sequester. He spoke about how the deficit has declined from 40% of the budget to 12% and called for advocacy and support to end the sequester.
"This is the year to end the sequester. If we do not do it this year it will become permanent. President Obama should not and will not accept a budget that contains the sequester cuts and fails to create jobs."
He said now is the time for President Obama to "draw a line in the sand on the budget."
He called on the community to advocate on the sequester especially in late September. Specifically he encouraged setting up a press conference and have those impacted by the sequester to testify. He said he would participate.
He announced that he would co-sponsor H.R. 2790. The legislation, H.R. 2790 – the Housing Assistance Efficiency Act, would allow nonprofits [501(c)3s] to administer rental assistance. It corrects the Continuum of Care (CoC) regulations released by the Department of Housing and Urban Development (HUD) last year, which included language stating that only government entities (including Public Housing Authorities) would be allowed to administer rental assistance, excluding nonprofits from participating in rental assistance activities.