CoC Program Start Up Training
September 20th in Trenton
September 30th in Wayne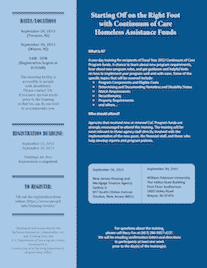 US Department of Housing and Urban Development will be holding two one-day training events in September in NJ.
The training – Continuum of Care (CoC) Program Start Up Training in New Jersey – is intended for recipients of Fiscal Year 2012 CoC Program funds. The Technical Assistance Collaborative (TAC) will be the technical assistance provider.
The training will provide an overview of new program requirements, recipient responsibilities regarding grant operations and administration, and the role of sub-recipients.
This is a chance to learn about new program requirements, hear about new program rules, and get guidance and helpful hints on how to implement your program well and with ease.
Some of the specific topics that will be covered include:
Program Components and Eligible Costs
Determining and Documenting Homeless and Disability Status
Match Requirements
Recordkeeping
Property Requirements
Dates and Locations
Trenton:
Friday, September 20, 2013
New Jersey Housing and Mortgage Finance Agency
Gallery A
637 South Clinton Avenue
Trenton, New Jersey 08611
OR
Wayne:
Monday, September 30, 2013
William Paterson University
The Valley Road Building
First Floor Auditorium
1600 Valley Road
Wayne, NJ 07470
Registration for the training is required. Click here to register for the training.
For questions about the training, please email Stacy Fox or call 617-266-5657, extension 137. We will be emailing confirmation letters, with directions to the trainings, at least one week prior to the day of the training.