Hudson County Sees Growing Homeless Population
Shelter Usage Constant Over Summer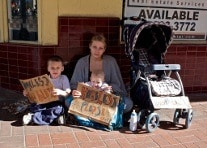 The Jersey Journal reported in a September 7, 2013 article, "Homeless Population in Hudson County Seems to be Growing," that this summer, homeless service providers in Hudson County did not see the typical seasonal dip in demand for shelter.
"'We're seeing an economic squeeze,' said Emory Edwards. He explained that PERC had provided 13,000 nights of shelter in 2010 and more than 19,000 last year. 'Hudson County is getting more expensive. Without the right level of education, people cannot compete in today's job market, and there's a lack of entry-level jobs.

"We were basically at 100 percent,' Edwards said. 'It's a little overwhelming sometimes.'"

Rosemary Lavagnino, director of North Hudson Community Action Corp.'s Community Action Program, said about 150 people seek assistance per month, a 40 percent increase from last year.

"The rents are going up, and people's incomes are not," Lavagnino said.

The NHCAC, based in West New York, provides low-income residents with vital services, such as emergency shelter, transitional housing, and other health and human services.

The Hoboken Shelter is assisting about 20 percent more people than it did at this time last year, officials there said.

"I'm seeing more new people, new faces," said Executive Director Jaclyn Cherubini. "It seems that every time we get someone housed, there's a new person."

At St. Lucy's Emergency Shelter in Jersey City, the 80-bed facility historically has been 85 percent full during the warmer months.

"That isn't the case these days," said Shelter Coordinator Tom Johnson. "We're at capacity year-round; when somebody leaves or is discharged, someone is there to fill the space."

High rents in Hudson County and lack of jobs are at the root of the problem, Johnson said. "The increase has forced us to turn some people away."
If you are a homeless service provide in another New Jersey CoC, are you seeing a similar trend?
Click here to read the Jersey Journal article.