Health Care Enrollment Online Toolkit
SAMHSA Offers Resources for
Advocates and Providers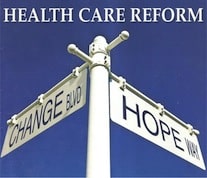 Everyone working to end homelessness knows someone who is experiencing homelessness who can benefit from health coverage under the Affordable Care Act.
On Tuesday, October 1, 2013, a new Health Insurance Marketplace will open for every state, which means all people experiencing homelessness will be able to find out what benefits they will be eligible for.
With enrollment through healthcare.gov starting in just a few weeks, advocates are already preparing to help people access new benefits. Advocates can find in-depth information about enrollment in a new toolkit from the Substance Abuse and Mental Health Services Administration (SAMHSA). The National Alliance to End Homelessness (the Alliance) and other national groups partnered with SAMHSA on the toolkit, which is designed to help advocates enroll people.
"Getting Ready for the Health Insurance Marketplace," is a 30-minute online presentation that comes with an assortment of communications resources: brochures, fact sheets, videos, posters, flyers, and more.
The toolkit covers:
The health care law and how it helps people with mental and substance use disorders;
How to use the Health Insurance Marketplace; and
How to get the word out to uninsured individuals in your communities.
The Alliance has also updated its own enrollment resource, Homeless Services and Medicaid Enrollment: What You Need to Know Now, which provides key information that will help advocates begin conversations with community leaders and partners about health care enrollment.
Click here to access the toolkit.