National HUD Call-In Week Extended
Call your Members of Congress This Week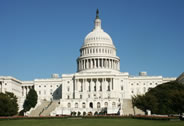 Last week NAEH and Monarch Housing set a national goal to make at least 250 calls to as many Members of Congress as possible urging them to support increased HUD funding. Despite the many of you that took the time to make calls and report back to me, we did not meet our goal.
However, due to international events, decisions around FY 2014 funding have been delayed for the time being. Congress is likely to resume negotiations soon on a stopgap funding measure, also known as a Continuing Resolution (CR), to fund the government beyond the start of FY 2014 on October 1. It is unclear what the CR will look like or how long it will run for before FY 2014 funding levels are finalized.
Fortunately, this gives us a little more time to make calls! Congressional leaders are negotiating funding issues THIS WEEK. It is extremely important that we continue to make calls and urge our elected officials to provide as much funding for HUD programs as possible in any CR or final funding legislation. We are confident that we can meet our 250 call goal if we keep making calls this week!
Here's What You Can Do:
Call your Senators' and Representative(s)' offices THIS WEEK and ask to speak to the person who handles housing issues. Click here for NJ contact information.
Use these talking points to discuss the need for increased funding for HUD programs, particularly the McKinney-Vento Homeless Assistance Grants.
Let me know which office(s) you contacted! Encourage others to make calls as well!
As part of this Call-In Week, the Alliance has set a goal of generating at least 250 calls this week to all Members of Congress about the need for increased HUD funding in the final FY 2014 budget.
Please make as many calls as you can and encourage your colleagues, Board members, clients, and anyone else who cares about HUD funding to make calls this week! You can use this sample action alert to help mobilize your own networks. It is important that we keep track of how many calls everyone has made so we can be sure to meet our goal, so please let us know how many calls you make!
More Information
Due to other pressing issues, it remains unclear when Congress will address FY 2014 funding; however, we do know that negotiations will begin in the next few weeks or even days. Therefore, it is extremely important that we get the message about the importance of robust HUD funding across to as many Members as possible.
Fiscal year 2014 begins in just a few short weeks on October 1 and Congress must pass some sort of legislation prior to this date to ensure the government is funded and does not shut down. That makes this week an ideal week to remind Members of the importance of HUD programs and the need to fully fund them!
Last week the Alliance and CSH hosted a webinar providing a funding update and recap for federal programs, with a particular focus on HUD funding.
This is a recording of the webinar for further information on likely funding scenarios and next steps.