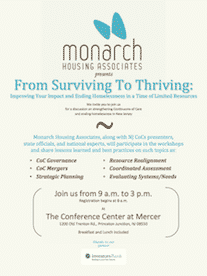 Please join Monarch Housing Associates on Friday, October 11, 2013 for a one-day conference, "From Surviving to Thriving: Improving Your Impact and Ending Homelessness in a a time of Limited Resources".
The conference will take place at The Conference Center at Mercer, 1200 Old Trenton Road, Princeton Junction, NJ., from 9am – 3pm.
Online registration is open and available through the Monarch Housing Associates' website.
Click here for the agenda.

Click here for the descriptions of the sessions.

Click here to register online.
This conference will focus on finding effective ways of ending homelessness at the local level through the implementation of key planning and service elements. We will offer guidance on implementation of key elements from the HEARTH regulations and discuss how effective implementation will strengthen your system and possibly attract new resources.
We invite each continuum to send a 5-person team of decision makers to attend this information/planning conference. Your team should include your CoC Lead Agency, and key planners involved in your local process. We suggest you include members of your Executive Committee If you have one established.