Health Reform Web Page Provides Resources
Targeted Information for
Homeless and Other Populations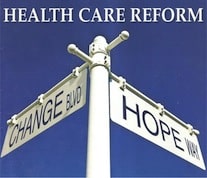 The Substance Abuse and Mental Health Services Administration (SAMHSA)'s Health Reform web page is a great resource for housing and service providers serving people with substance use and mental health services needs that also experience homelessness and/or are living with HIV/AIDS.
The website offers technical assistance tools, federal resource links, and research publications on topics such as:
Health insurance enrollment
Business solutions for implementing health care financing changes
Federal funding opportunities for behavioral health providers
Mental Health Parity and Addictions Equity Act (MHPAEA)
Health Home opportunities
The Recovery Support tab includes a link to SAMHSA's Homelessness Resource Center (HRC), an interactive learning community dedicated to disseminating knowledge and best practices to prevent and end homelessness.
And as some general reminders about health reform:
Every state has a Health Insurance Marketplace that functions as a portal to health coverage.
Some states have elected to operate their own Marketplace, others to be served by a Marketplace operated by the federal government, and still others to share some responsibilities in partnership with the federal Marketplace. In New Jersey, the federal government will be operating the Health Insurance Marketplace.
The Marketplaces are intended to facilitate access to affordable healthcare coverage for people with incomes below 400% of the federal poverty level (FPL) in every state (even in those that have elected not to expand Medicaid coverage to people with incomes below 138% of the FPL).
In addition, in all states people who are currently eligible for the legacy Medicaid program can be identified and referred for Medicaid enrollment by the Marketplace, without regard to the states' decisions about Medicaid coverage expansion.
The federal government is funding specialized outreach and enrollment assistance in every state.
Because of possible new insurance options, and the increase in access to enrollment for many clients, housing and services providers can use the information available on websites such as Enroll America to familiarize themselves with the Health Marketplace options in their state, and develop a plan to assist their constituents to obtain Medicaid or affordable health insurance coverage.
The Substance Abuse and Mental Health Services Administration (SAMHSA) is the lead agency within the federal Department of Health and Human Services (HHS) representing children and adults with substance use and/or mental health service needs