Exploring Relationships With
Housing and Homeless Service Providers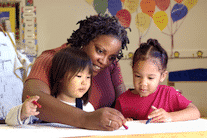 On Thursday, October 3, 2013, at 3:00 p.m., the National Alliance to End Homelessness will host, "Working with Early Childhood Programs to Assist Homeless Children and Families," a webinar that will explore the relationship between housing and homeless service providers and early childhood development programs.
Speakers will discuss how their organizations are working to close the bridge between children's services and the housing and homeless service community.
Among the early childhood programs that will be discussed are:
Head Start/Early Head Start,
Early Intervention (IDEA Part-C) services, and the
Maternal Infant Early Childhood Home Visitation Program.
Click here to register for the webinar.