Report Finds LGBT Youth
Disproportionately Represented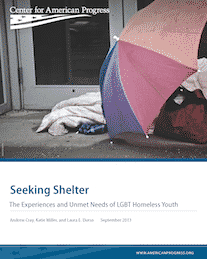 According to a new report from the Center for American Progress, LGBT youth across the country are disproportionately represented among homeless youth.
LGBT youth are also more vulnerable to homelessness because of family rejection and challenges navigating the social safety net system. The report examines the factors contributing to homelessness among LGBT youth.
There is no single data source that captures the rate of homelessness among LGBT youth nationally, but estimates from state and local studies suggest that between 9% and 45% of homeless youth identify as LGBT.
A national study of agencies providing services to homeless youth found that 40% of clients were LGBT. These estimates may underestimate the proportion of LGBT homeless youth because many youth are not willing to self-identify as LGBT.
The authors of the report identified several drivers of homelessness among LGBT youth including:
Homelessness among LGBT youth is often the result of family conflict and rejection. A survey of service providers found that family rejection (46%) and being "forced out" by parents (43%) topped the factors causing homelessness among youth; and
Both juvenile justice and social safety net systems are often perceived by youth as discriminatory and unwelcoming.
LGBT homeless youth were found to be more likely to have difficulty accessing short-term shelter and long-term housing compared to non-LGBT homeless youth. One in five LGBT youth were unable to access short-term shelter, and 16% were unable to access long-term housing. These rates were approximately twice that of non-LGBT homeless youth surveyed.
The authors of this report say that policymakers can improve the response to homelessness among LGBT youth in a few ways, including:
Improved data collection is needed to measure the causes and prevalence of homelessness among LGBT youth;
Social service networks should consider providing services that are LGBT-specific. Most homeless youth service providers cite working with LGBT youth (94%), but few offer services directed towards the needs of this population (24%); and
Report authors stress the importance of developing programs to improve family relationships and address the tensions often leading to homelessness among LGBT youth.
Click here for the report, Seeking Shelter: the Experiences and Unmet Needs of LGBT Homeless Youth.