Effect of the Sequester
Budget Cuts in Silicon Valley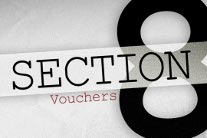 During the federal government shutdown, it is critical that we keep in mind the individuals and families who have already directly felt the effect of the sequester and budget cuts. In Silicon Valley, California, the sequester has had a dramatically negative impact on individuals and families who depend on Section 8 vouchers to afford housing.
A YouTube video, "Priced Out in the Valley" features the stories of elderly and single parent Section 8 tenants, including those with disabilities. These individuals are already living on very low fixed incomes and now have seen their rents double, triple or even quadruple.
Priced out of their Section 8 apartments, they do not have the money to pay moving expenses or a new security deposit. Many face uncertainty about where they will live at a time when there is an increased demand for the limited number of shelter beds. These individuals and their children will be at even greater risk of homelessness.
They feel that the media is not accurately covering the effect of the sequester and also want members of Congress to hear their stories.
The same unfortunate squeeze is happening every day in NJ. Now is the time to tell the truth about the sequester.
Click here to watch the video.