Obama and Senate Democrats Negotiating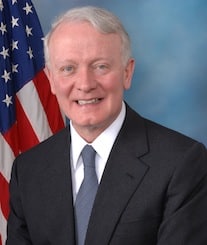 On October 10, 2013, U.S. Representative Leonard Lance, a Republican who represents the 7th Congressional district, had a guest column in the Star-Ledger.
In A Prescription for Ending the Federal Shutdown he makes the case for why President Obama and Senate Democrats should negotiate with House Speaker John Boehner. Lance says "it is unprecedented for a president to refuse to negotiate."
Lance writes,
"It is time to break this gridlock."
He explains why it would help New Jersey if the medical device tax was repealed. Repealing this tax is a key part of the proposed compromise that would reopen government.
"In New Jersey, thousands of workers who depend on the medical-technology industry risk losing their jobs because of this tax. These workers contribute billions of dollars to the Garden State economy each year."
As the government shutdown continues, investors are increasingly concerned about a U.S. default as the debt limit deadline grows closer. As of today the federal government only has $30 billion available to pay bills that exceed that amount. If the deadlock is not resolved this week, the government would only be able to pay 70% of the bills.
Lance concludes,
"Then let us pass this bipartisan, bicameral plan to reopen the government and force the president to the negotiating table.

Only then will we have an opportunity to pass a debt-limit agreement that includes common-sense spending and entitlement reforms and policies that will create jobs, strengthen our economy, reduce our debt and deficits, and put us on a glide path toward fiscal responsibility."
The current debate is focused on the Senate. A similar measure to Congressman Lance has been defeated in the Senate.
Click here to read the entire column.