Correcting Myths About Medicaid
Medicaid Is Efficient and Effective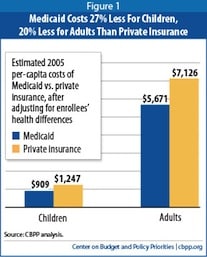 In a recent report, the Center for Budget and Policy Priorities (CBPP) explains five realities that dispel myths about Medicaid, including:
Medicaid Is Efficient.
States Have Considerable Freedom to Design Their Own Programs.
Medicaid Beneficiaries Have Much Better Access to Health Care Than the Uninsured.
Health Reform's Medicaid Expansion Is a Very Good Deal for States.
Medicaid Beneficiaries Generally Don't Have Access to Private Coverage.
As states consider whether to adopt health reform's Medicaid expansion and some federal policymakers promote radical structural changes in the program, critics have circulated a number of myths about Medicaid.
This brief report corrects five of these myths by providing the corresponding reality for each.
Click here for the full report.