Republican Support for the LIHTC
Lazio Calls Both Parties
To Get Behind Program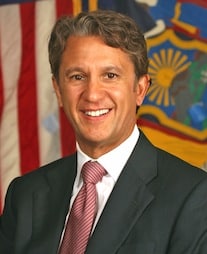 In a September 9, 2013 Commentary on the Roll Call website, former U.S. Representative Rick Lazio (R-2), makes the case for the Low Income Housing Tax Credit (LIHTC) program, "A Tax Credit Both Parties Can Get Behind."
Writes Lazio,
"Every person in the U.S. should have a decent, affordable place to call home." And he calls the program the best way to preserve affordable housing.
Seven million people in the U.S. rely on subsidized housing to prevent them from becoming homeless.. Many of them work but still cannot affordable rent. In addition, there are 20 million families living at risk of homelessness who spend more than half of their income on rent.
The LiHTC program:
Has created and preserved 2.6 million homes since it began in 1986;
Is a true private-public partnership that has generated more than $100 billion in private investment;
Is administered at the state level making it flexible to meet the needs of local communities; and
Does not put the government at risk since private investors provide the funding up front.
Concludes Lazio,
"The housing credit promotes job growth, strengthens communities, leverages private capital, encourages federalism, sidesteps bureaucracies and holds stakeholders accountable. If Republicans were to design an affordable housing program from scratch today, it would look like the housing credit."
Click here to read the entire commentary.