What Happens When Public Servants Cannot Serve
HUD's Ann Marie Oliva Weighs In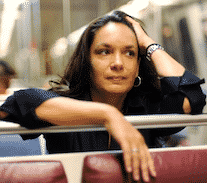 In an October 11, 2013 opinion piece to the Washington Post, Ann Marie Oliva asks, "What Happens When Public Servants Cannot Serve?"
Oliva is the Director of the U.S. Dept. of Housing and Urban Development (HUD)'s Office of Special Needs Assistance Programs.
Oliva raises the questions:
What Does Public Service Really Mean? and
What is My Responsibility When I am Told I Can't Serve.
She writes of how her work in public service is a true calling and how
"HUD's incredible staff and partners have made a positive difference in the lives of people who experience what most of us cannot imagine: having no safe place to call home."
During the government shutdown she worries greatly about her both her colleagues who are going without their paychecks, HUD grantees and those experiencing homelessness. She also worries about the effect that the shutdown will have on the good work being done across the country to end homelessness.
She concludes with this answer to her question,
"My responsibility as a public servant is to inform our political leaders about the impact their actions have on the people of this country and on those who serve them. It also is my responsibility to remind them that they, like me, are public servants.

Please act like it."
Click here to read the entire opinion piece.