National Publicity for Camden Sequestration Meeting
Also Gains Attention of NJ Media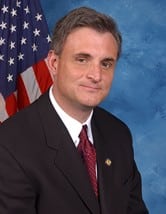 On October 7, 2013, the Honorable U.S. Representative Robert E. Andrews (D-1st Dist.) the Camden County Homeless Network Planning Committee (HNPC) and Community Planning & Advocacy Council (CPAC) hosted a forum for Camden residents to voice their concerns and share their experiences relating to federal budget cuts.
This week, the National Low Income Housing Coalition (NLIHC) highlighted the forum in its October 18, 2013 issue of its weekly "Memo to Members" as a "Note From the Field" story.
On October 7, 2013 South Jersey Times featured a story, "This is a crisis: Social Service Workers Speak About Sequester Impacts With Congressman."
At the event, Andrews heard from social service providers and residents who shared their stories around the impact of the sequestration.
Quoting from the South Jersey Times article, Andrews stated his opinion of the situation in Washington.
"It's not a political tug of war, it's a series of disastrously bad decisions."
Director of Camden County's Community Development Gino Lewis who moderated the event warned that the impact of the sequester in Camden isn't unique.
'This is not just a Camden City problem, it's a county problem, and a state problem,' Lewis said in the NJ.Com Story. 'They're basically telling you 'Which limb do you want to cut off first?'"
Examples were given about how the sequester was negatively impacting and could further negatively impact Head Start programs and the young children served and single mothers and other low-income households living in and still in need of affordable housing.
The forum encouraged Camden advocates who organized and attended the event. Monarch Housing's CEO Richard Brown was quoted in the NLIHC article,
"Advocates and residents felt hopeless in their ability to move federal legislators to end the budget crisis, but this forum provided an example of how they can ensure their voices are heard."
Click here for the article on the NLIHC website.
Click here to read the South Jersey Times story.