An Affordable Housing Success Story
Mount Laurel's is a Success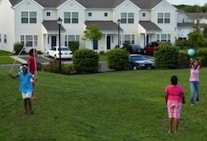 "Climbing Mount Laurel, " a recent study of affordable housing in Mount Laurel, New Jersey dispels the worries and fears that often surround affordable housing. When construction of affordable housing in the suburb began, "A ghetto in the field' was how some townspeople envisioned the new housing. "
But since 140 units of affordable housing were built in Mount Laurel in 2000, the community has not seen an increase in crime, drugs, and taxes. Property values and the quality of the public schools have not fallen.
An October 19, 2013, New York Times opinion piece, "Here Comes the Neighborhood" makes the case that Mount Laurel's suburban affordable housing can be replicated in other suburbs across the country. Affordable housing came to Mount Laurel as the result of a New Jersey Supreme Count decision. In 1983, "in the decision, known as Mount Laurel II, the justices ordered all New Jersey suburbs to rewrite their zoning laws and allow a "'fair share' of affordable housing."
Many wealthier residents of the town do not realize that there is affordable housing in Mount Laurel. But the impact on the low-income households who moved from poor cities has been life changing.
"The families that migrated to Mount Laurel — earning from 10 to 60 percent of median income — obtained more than a nicer house. They secured a new lease on life, a pathway out of poverty for the adults and a solid education for the children."
Those households who were not accepted into the Mount Laurel apartments, due to the lack of new homes, have not fared as well as those who were lucky enough to move.
The opinion piece concludes with,
"'I wish other places could learn from our example,' says Mr. McCaffrey, the former mayor, but that hasn't happened. Affordable housing is still too rare in suburbia, as zoning laws continue to segregate poor and working-class families. Despite the track record in Mount Laurel and the promise it holds for neighborhoods around the country, it's hard to imagine that the suburban drawbridge will be lowered anytime soon. It is a truism that fear and prejudice are not readily ousted by facts.'"
Click here for the entire opinion piece.