November 1 Brings SNAP Cuts
873,000 Young, Elderly and Disabled
New Jerseyans Will Feel Impact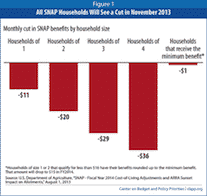 The Center for Budget and Policy Priorities has issued a new report which provides an analysis of how the "November 1 SNAP Cuts Will Affect Millions of Children, Seniors, and People With Disabilities."
The 2009 Recovery Act's temporary boost in Supplemental Nutrition Assistance Program (SNAP) benefits ends on November 1, 2013, which will mean a benefit cut for each of the nearly 48 million SNAP recipients — 87% of whom live in households with children, seniors, or people with disabilities. The report includes state-by state- figures.
In New Jersey, the end of the temporary boost means:
A $90 million cut to the state
A total of 873,000 recipients (10% of the state population) affected:

364,000 children will be affected
195,000 elderly or people with disabilities will be affected
CBPP and Monarch Housing urges House and Senate members who are now beginning to negotiate a final Farm Bill to keep this benefit cut in mind as they consider, in reauthorizing the SNAP program, whether to make even deeper cuts.
Click here for the full report.