2013 Longest Night Campaign Kickoff Event
Ending Homelessness in
Jersey City One Life at a Time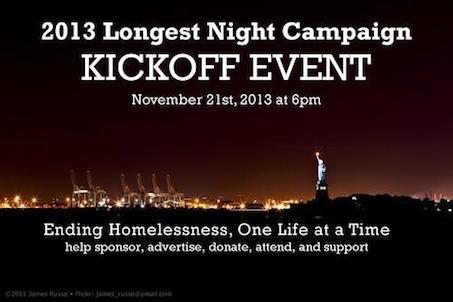 On Thursday, November 21, 2013, Garden State Episcopal CDC is hosting a Longest Night Campaign kickoff event.
This event will launch a season of giving and will begin at 6:00 p.m. at Casino in the Park, 1 Nunda Ave, Jersey City.
This event kicks off a one month of raising awareness on the plight of homelessness, raising funds to end this crisis and collecting much needed supplies, all culminating in Jersey City's annual Homeless Memorial Service which will be held on December 19, 2013 – the winter solstice, the longest night of the year, and the national homeless memorial.
Opportunities to support the event include attending the event, becoming an event sponsor, purchasing a program Ad and, donating items for our silent auction.
Please join us at this very important event and help to end homelessness!
Click here for more information and to purchase a ticket.