Poor Housing Quality Predicts Children's Well-being
Emotional and Behavioral
Health Shown to be Affected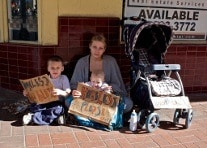 The results of a new study reveal that housing quality was the most consistent and strongest predictor of a child's well-being. Specifically, children living in poorer quality homes exhibited greater emotional and behavioral problems than those who lived in higher quality housing, and their problems increased as housing problems worsened over time.
The results show that children living in homes with issues such as leaking roofs, broken windows, rodents, non-functioning heaters or stoves, peeling paint, exposed wiring, or unsafe or unclean environments were more likely than children living in higher quality homes to have emotional and behavioral problems. Poor housing quality also led older children to receive lower reading and math scores on standardized achievement tests.
The other housing characteristic that was important to a child's well-being was residential stability. Compared with peers who resided in a more stable environment, children whose family had higher average levels of moves exhibited more anxiety, depression, and rule breaking behaviors. The association between poor quality and unstable housing and problems among children is primarily due to the depression and anxiety these issues caused for the parents.
The study was published in the Journal of Developmental Psychology and looked at the relationship between housing characteristics and the well-being of low income children.
Five housing characteristics were analyzed in this study:
physical quality,
residential stability,
ownership,
affordability, and
receiving a housing subsidy.
The authors used a sample of over 2,400 low-income children and adolescents (two to 21 years old) living in neighborhoods of concentrated poverty in Boston, Chicago, and San Antonio. Household heads were interviewed three times over a six-year period.
Click here for the policy brief on Relations between Housing Characteristics and the Well-Being of Low-Income Children and Adolescents that can be found on MacArthur Foundation's webpage