300,000 Veterans Rely on Housing Vouchers
Large Unmet Needs Remain
Existing Vouchers Face Risk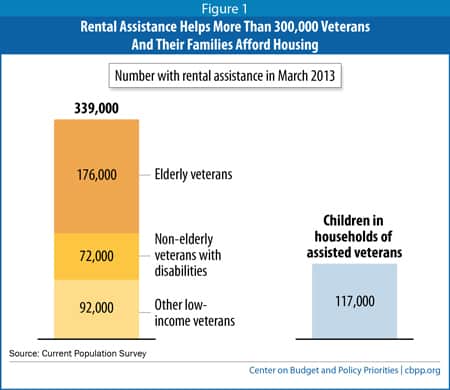 The Center for Budget and Policy Priorities (CBPP) has released a new report that both highlights the veteran households who rely on rental assistance through housing vouchers and also the large remaining unmet need.
Rental assistance helps more than 300,000 veterans — the great majority of them poor or near poor — afford decent housing. It appears to have played a central role in the 17% reduction in veterans' homelessness between 2009 and 2012, and it allows recipients to devote more of their limited resources to other basic needs, like food or medicine.
But this rental assistance reaches only a fraction of veterans in need; many veterans continue to experience homelessness or pay very high shares of their income for housing. And if Congress does not increase funding in 2014 for the Housing Choice Voucher program, which has been hit hard by sequestration, assistance for 8,000 to 12,000 low-income veterans could be cut as a result.
Click here for the full CBPP report.