But Critical Funding at Risk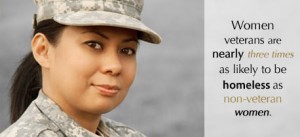 A November 10, 2013 New York Times op-ed piece, "New Hope for Homeless Vets," gives a compelling example of a public-private partnership working to end veterans homelessness in New Jersey.
It's writer, Larry Oaks of Local Initiatives Support Collaboration (LISC) highlights Valley Brook Village, a supportive housing development that was built on the Veterans Administration campus in Lyons that houses 61 veterans.
Writes Oaks,
"Certainly, there is no fast track to meet the needs of our most vulnerable veterans. But there is a blueprint. And with it, we can move forward so that one day none of the men and women who have served our country find themselves without a home."
Valley Brook Village used Low Income Housing Tax Credit and HUD-VASH funding but these programs are at risk with the proposed budget cuts and changes to the tax code in Congress. Says Oaks, "Our veterans will suffer if those programs are whittled down or lost."
Veteran's homelessness has been declining from 76,000 to in 2008 to 63,000 in 2011 but the problem still exists.