Only 24% of Sandy Relief Funds Distributed
Thousands waiting to move home
As Christie Administration delays
Data obtained from the Christie Administration reveals that only $283 million out of $1.16 billion dollars has been distributed to homeowners and renters for disaster relief. New Jersey received the $1.16 billion dollars last spring specifically for housing programs under the Community Development Block Grant-Disaster Relief (CDBG-DR) but to date, only 24 percent of those funds have made their way to Sandy victims.
A November 12, 2013 Star-Ledger article reports that the State's Department of Community Affairs countered that 34% of the funds have actually been spent. According to the article, "It was the first time the state put a comprehensive number to the total amount of housing assistance released since Sandy."
In reviewing the data, Fair Share Housing Center and the Housing and Community Development Network of New Jersey found that of the $780 million set aside for homeowners, only $117 million or 15 percent has been distributed. Of the $330 million allocated for renter programs, $158 million or 48 percent has been disbursed.
A breakdown of CDBG-DR housing program allocations versus payments as provided by DCA underscores the underspending although their numbers were at 33%.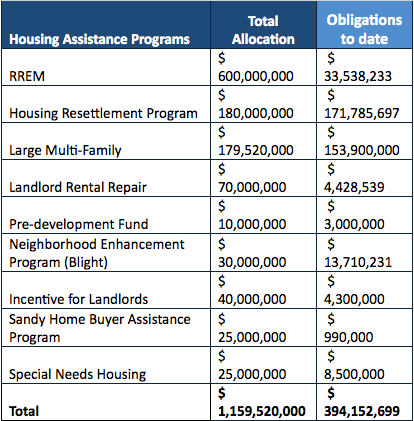 The Christie Administration has pointed to the United States Department for Housing and Urban Development (HUD) for the delay, but the Action Plan and related regulations were approved by HUD months ago. Elected officials and housing advocates say they do not understand why the money is not getting to the people who need it.
The Honorable U.S. Representative Bill Pascrell (D-NJ-09) voiced frustrations over delays from both federal and state levels of government. Pascrell said,
"It's been over a year since Hurricane Sandy devastated the Northeast, yet there are still thousands of families in New Jersey without homes. I fought alongside my colleagues in Congress for more than three months to ensure victims had the resources they needed to get their lives back together, in spite of the hypocrites that voted against Sandy aid yet support disaster funding in their own states. Now we find out that less than a quarter of the CDBG-DR funds allocated for housing programs have been awarded by the State of New Jersey as families struggle to rebuild. It's time for the State to make a more concerted effort to get the funds to families that desperately need them."
Staci Berger, executive director of the Housing and Community Development Network of New Jersey, explained that member organizations continue to hear from individuals who have been approved for funds but have no idea when they will receive them. Berger said,
"Too many of our neighbors are still couch surfing or struggling to live in homes that need to be repaired. They deserve better. The money has been allocated through programs that had prior approval from the federal government. We don't understand why the Christie Administration is not releasing the funds."
Adam Gordon, staff attorney for Fair Share Housing Center explained that the below information was obtained as part of litigation proceedings his organization brought against the Christie Administration in response to the administration's lack of transparency regarding its use of federal funds provided for Sandy relief efforts. Gordon stated,
"We have been concerned from the outset about relief funds being distributed fairly. Unfortunately, the Christie Administration did not respond to our request for information explaining the rules for who gets funds and who does not. After 45 days, we brought the lawsuit, because we simply could not explain to those forced from their homes why they should continue to wait for this very basic information."
In a November 12, 2013 article, The New York Times reported that, ".. . Housing groups argue that Mr. Christie, who fought a public battle with Republicans in Congress to get the money in the first place, has not done enough to explain the delays to residents. He declined invitations to have administration officials speak at several legislative hearings on storm recovery over the last three months."
Click here for the Star-Ledger article.
Click here for the Times article.