66,100 NJ Families Use Housing Choice Vouchers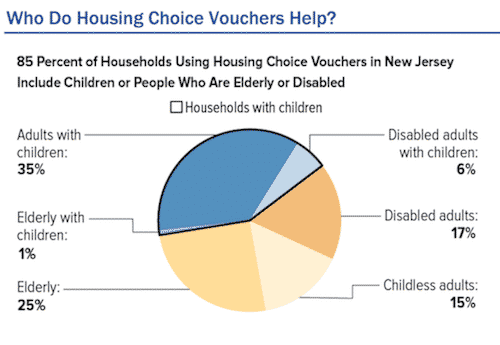 Yet 80% of Very Low-Income Renters in NJ are Without Housing Choice Vouchers
The Center on Budget and Policy Priorities (CBPP) has posted new  fact sheets on Housing Choice Vouchers. CBPP has updated data with some great new content on how vouchers help end homelessness.
Hopefully the New Jersey fact sheet will provide you with some additional data and talking points for talking to your Members of Congress during the August recess. August is a great time to try to get your Members out to a site visit, or to visit their town halls or other events to talk about housing.
Please remind your elected officials in Washington, DC that when FY17 THUD funding is finalized (likely after the election), that bill should include funding to renew all vouchers in use and the $20 million for new Family Unification Program vouchers that were in the Senate THUD bill.
Advocates who joined Monarch Housing and our partners in DC on July 13, 2016 spoke at length about and gave personal testimonials about the critical importance of vouchers in helping them stabilize their lives.
CBPP's "Fact Sheet: The Housing Choice Voucher Program" contains very helpful state voucher data.
The Housing Choice Voucher (HCV) Program is the nation's largest rental assistance program. Across the country, more than 5 million people in 2.2 million low-income households use vouchers.
Who Do Housing Choice Vouchers Help in NJ?
66,100 low-income households used Housing Choice Vouchers in New Jersey to afford decent, privately owned housing in December 2015.
Housing vouchers help low-wage working families to make ends meet: in 2015, 75 percent of the non- elderly, non-disabled households using vouchers in New Jersey were working or had worked recently.
Housing Costs Strain Family Budgets
80% of very low-income renter households in New Jersey pay too much for rent and do not receive a voucher or other federal rental assistance.
Who are these households?
In 2015, 10,098 people in New Jersey were homeless, including 2,404 children and 1,410 adults with disabilities who have been homeless for long or repeated periods.
Housing Choice Vouchers make housing affordable and reduce homelessness and instability, according to numerous studies.
Children in homeless families that receive housing vouchers also change schools less often and are much less likely to be placed into foster care; their families also experience less food insecurity and domestic violence.
Housing Choice Vouchers Benefit the Community
Property owners in New Jersey received $650,800,000 in HCV assistance payments in 2015. This helped them pay property taxes and prevent blight by maintaining their properties in good condition.
Children in families that use housing vouchers to move to better neighborhoods are more likely to attend college, less likely to become single parents, and earn more as adults.
In addition, vouchers can produce savings in health care, child welfare, corrections, and other areas that may offset part of their cost
NJ Housing Choice Voucher Fact Sheet
National and State Housing Fact Sheets and Data
Subscribe to our newsletter and receive News You Can Use every morning.